It has been sometime since I have mustered up the creativity to update this blog. Alas, here I go. I have realized with help of my close, old friend Devlin, that my photographs in short were completely lacking. It stems from the idealism I was masking as perfectionism, and in that I simply could not see a photograph through a lens that gave a story, that was subtle and "perfect". Yet over the last months, I have devoted much time to throwing out everything I used to thought I was and begun from the ground up once again, this time recognizing the limitations of pure idealism verse idealistic creativity.
My longtime friend from Agoura, Devlin, came to visit my household, my new state, my climbing. I felt a little insecure because I wanted to give him a great time, an adventure of sorts, and still being a newbie in this state I wasn't sure what to expect. Devlin and my relationship has always been about adventures and what places we will come to without our knowing of such place. It is a state of being that is of the utmost importance to me, so having Devlin come here to this state, I had to make sure it would be filled with amazingness. Kyle, Marc, Myself, Tolkien and Luna filled my Subaru Forester. We packed it with a mondo crash pad, a regular sized one and all of camping gear for atleast 4 days and of course the climbing and camera gear. We make it right on time as Devlin is exiting the terminal at Seatac. We rush out of the car, give our hellos, shoved his mondo pad that made mine seem small in comparison into the already filled Forester and what seemed like ten minutes sitting there with everyone watching, we finally slammed my car shut and headed toward Seattle. I had just recently sold all my cannon gear and had a lens left over that I wanted to sell at Glazers. We stopped, I sold it and got a Joby Gorillapod at Devlin's suggestion. After about an hour or so of meandering in Seattle, we headed off to Gold Bar and went straight to the 5 star boulder.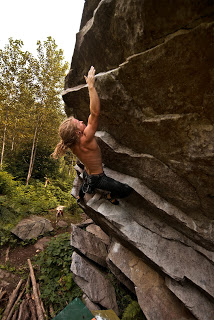 The First day was a dud, I only climbed a v2 warm up and tried a v6, but was getting no where close to completing it. Devlin got a pretty impressive send on a v6.(shown below) We got a free campsite just under the Index Town Walls next to a beautiful River and called it a night. That next day we went searching for the River boulders and oh did we find them. They are some of the best granite I have ever touched, so smoothly eroded from the river that they lay beside, the boulders were tall, hard, and didn't even rough your skin up.
I think this a good place to conclude for now. It has been almost a month straight of non-stop adventuring with almost no time to relax, let alone work on rebuilding the evergreen climbing gym (I can't believe we are actually doing that and will get photos up as soon as we are done) planning on leaving to california in two days (getting ready to continue shooting the obscure boulders project with Devlin, and some bad family news to attend to), starting to read/study for my upcoming program, Vertebrate Evolution, and of course you know, be Josh.